BadCopy Pro - Flash Drive Data Recovery Software
Thumb Drive, JumpDrive, Pen Drive Data Recovery and File Recovery Software


Download the free trial version - Fast and easy!
Get the full version now - Instant online delivery!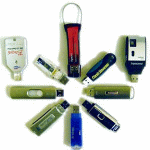 BadCopy Pro
is the leading data recovery software for removable storage. It can recover data and files from flash drives including USB flash drive, USB memory, JumpDrive, Pen Drive, Pocket Drive, Thumb Drive and many more USB flash drives.
The software works with Microsoft Windows platform (from Windows 9x to Vista) and it's very easy to use. It can recover deleted files, formatted drive, or data loss due to damage, media error, bad sectors and other reasons. BadCopy Pro is a safe data recovery software that performs read-only operations on your source flash drive and saves the recovered files to the location you specify.
How to Use BadCopy Pro to Recover Data from USB Flash Drive
1. Connect the flash drive to your computer USB port (USB 2.0 is highly recommended). And make sure it appears as a drive letter in "My Computer".

2. Launch BadCopy Pro and Choose "Flash Drive and Zip Disk" as recovery source on the left panel. If you haven't installed the software, you may download and install it first.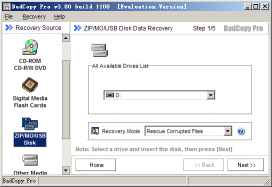 3. Choose the drive letter of your flash drive, and the recovery mode on the right panel.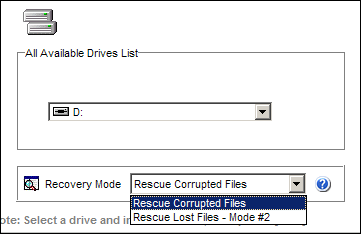 If you need to recover corrupted files from the flash drive, choose "Rescue Corrupted Files". Or if you need to recover deleted, formatted or lost files from the drive, you may choose "Rescue Lost Files - Mode #2".
4. Click [Next] and follow the instruction to complete the recovery process step by step.
About USB flash drive
USB flash drive is a compact and easy-to-use storage that is similar to your computer floppy drive or hard drive. But it is pluggable and portable. USB flash drive slips into your pocket, conveniently around your neck or on a key chain for ultimate portable storage. USB flash drive will appear as a drive letter in "My Computer" when it is connected to your computer on USB port. See USB Flash Drive FAQs and Flash Drive on Wiki.